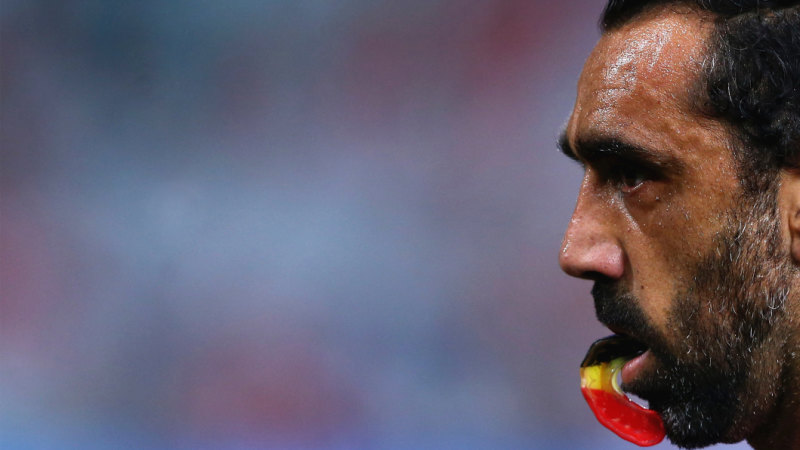 Goodes was named Australian of the Year in 2014 and retired at the end of the following year after widespread booing from opposition fans.
Loading
The film revisits the condemnation of Goodes from right-wing media commentators, including Andrew Bolt, Alan Jones and Miranda Devine, and controversial Footy Show panelist Sam Newman.
Collingwood president Eddie McGuire features prominently after racially vilifying Goodes on breakfast radio and for his criticism of the player's war dance and alleged staging. He spoke earlier this month of his «heartbreak» at the manner of Goodes' exit from the game and his hope for change.
Sydney players were given a private screening in the pre-season, as were the league's Indigenous players. Collingwood's players are due to see the film next week.
Loading
Swans veteran Jarrad McVeigh, a close friend of Goodes and who was captain of the club at the time, said he and teammates were unaware how much criticism the former club great had received.
«There was a lot of emotion, a lot of anger, a lot of guys unhappy. A lot of the stuff we hadn't seen, what was said on The Footy Show, we were pretty dirty,» McVeigh told The Herald. «We were upset. I asked myself «did I do enough to help out a mate, did I stand up enough»?
«It's hard to watch, you think about how well he handled it in the situation, you have more sense of pride about what he went through.
«Goodes always said to us I don't want to inflame the situation then it got to a point where it got too far.»
McVeigh recalled the dismay among Swans players when booing controversy reached a climax against West Coast in Perth in 2015, which prompted Goodes to sit out for a week. Goodes even contemplated immediate retirement.
«I remember coming off the ground giving it to their supporters, they were giving it to us,» McVeigh said. «It was extraordinary to walk off and hear the abuse that Goodesy and Jetts [Lewis Jetta] and the boys were copping walking down that tunnel that day.
«We didn't have the chance to stop and think what's going on here [during the game], more after the fact you think «Geez, what's happening here, where are we at?»»
«I knew deep down and being with him every day what he was dealing with and going through.
«He's got an amazingly strong resilience as a person and football player. To keep playing well in those times, then it comes to a point where enough's enough.
«We saw him when he took off for a week. Those moments are really hard, to see a friend extremely upset.»
Greater Western Sydney forward Jeremy Finlayson said he and many of his fellow Indigenous players were taken aback by the film.
«When our boys watched it they didn't know what was actually going on and how it affected him,» Finlayson said. «He's one of the greatest players to have played the game, and he's paying the price for it.»
Andrew Wu writes on cricket and AFL for The Sydney Morning Herald