Japan is a major player in developing hydrogen energy because it now imports 85 per cent of its energy sources.
Japan lost faith in nuclear energy after the Fukishima nuclear plant disaster after a tsunami damaged the plant in March 2011.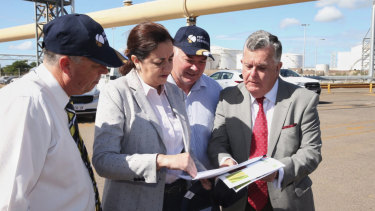 South Korea announced radical plans in January 2019 to have 80,000 hydrogen-powered cars running by 2022. Both nations are major Queensland trading partners.
Queensland has hydrogen pilot projects at Northern Oil in Gladstone and at CSIRO facilities at Redlands, which it hopes to expand.
Loading
"This means thousands of jobs and the potential for us to pursue a market with Japan," Queensland Premier Annastacia Palaszczuk said.
"Here in Queensland if we can continue to work with Northern Oil and the CSIRO, we have the potential to export hydrogen to the Asia Pacific region."
South Australia already has several hydrogen pilot projects, while the Victoria Government in 2018 announced plans to liquify hydrogen from brown coal and export it to Japan.
In Gladstone on Thursday, Ms Palaszczuk said she had last week signed a memorandum of understanding with the Japanese Oil and Gas Metals Corporation to further research the hydrogen industry.
She announced $19 million to support key aspects of the new Queensland Hydrogen Industry Strategy.
Ms Palaszczuk said hydrogen provided potential for "thousands of jobs" and an opportunity for Queensland to "be the gateway for hydrogen for all of Australia."
"Next week I am sending State Development Minister Cameron Dick to the International Hydrogen conference in Tokyo in Japan," She said.
"Minister Dick will outline to the international community our plans to grow this industry."
Mr Dick said Japan, Germany and South Korea — all major energy importers — were leading the transition towards hydrogen energy.
Hydrogen power – if it is produced from renewable sources — has only water vapor as an emission.
Mr Dick said the preferred way to capture hydrogen was by electrolysis, storing the element as either a gas, or in a fuel rod as metal hydride.
"Two of our biggest trading partners; Japan and South Korea, are leading the hydrogen revolution internationally," Mr Dick said.
"That is why I have been invited to Japan next week to launch our state strategy internationally."
Queensland's hydrogen industry is still fledgling, but its advantage is solar energy, which could could power cheaper electrolysis.
The state had only exported a small amount of hydrogen produced from renewable energy, Mr Dick said.
"In March 2019, Queensland celebrated its first-ever delivery of green hydrogen to Japan, exported by Nippon Oil and Energy with hydrogen produced by QUT's solar-cell facility at the Queensland Government's Redlands Research Facility,» he said.
Green hydrogen is preferred to "brown" hydrogen , which is produced from electrolysis powered by coal and "blue» hydrogen produced from natural gas.
Northern Oil, just outside Gladstone, is a bio-fuel refining company is producing new fuels from lubrication oil and sugar cane.
Its first aim is to produce "a transportable source of renewable hydrogen."
A briefing paper on hydrogen energy was given to the Council of Australian Governments (COAG) in August 2018.
Notes from a hydrogen report to COAG
The Queensland government committed $750,000 for a feasibility study into producing hydrogen using solar energy from central Queensland and exporting it to Japan via Gladstone
ADME Fuels is developing a zero emissions liquid fuel project using renewable hydrogen and CO2.
Tony Moore is a senior reporter at the Brisbane Times