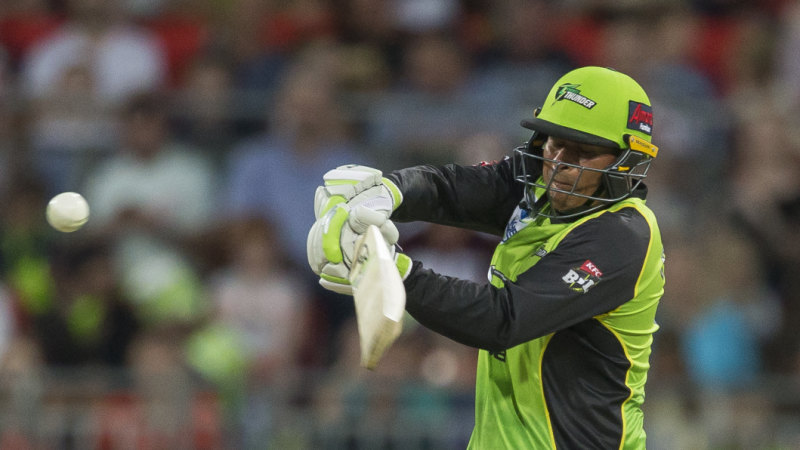 «It was my choice and I wanted to play for the Thunder,» Khawaja said.
«I love it. They are are a great bunch of guys there and Bondy [Shane Bond] is the new coach and has been really cool.
«I just keep things simple, watch the ball and try to hit it. I've been fortunate to have some pretty good innings with the Thunder.
«A lot of cricket has been played and it's always draining. We're professional cricketers now, we play a lot more compared to what was played 10 years ago. It's sort of expected.
«You try to switch off, and time management becomes really important.
«We finished the Test match, I went home for about 18 hours, then flew to Sydney and then got on the Thunder bus to Canberra yesterday afternoon.
«People don't see that part of cricket, the hard work and training and all the requirements off the field. But we love what we do. I can't complain.»
Khawaja's summer campaign began in earnest from the moment he suffered a knee injury in the Middle East during the Pakistan Test series. There was the emotional torment of not knowing if he would run out of time to be fit for the Indian series.
«For five weeks I was training every single day, and trying not to stress about it and whether I'd be back. It was one of my least favourite times,» Khawaja said.
Last week's century was just one of the highlights for Australia, which also featured a maiden Test ton by Patterson.
While included for the clash against table-topping Hobart, Patterson is no certainty to play.
Khawaja's numbers for the Thunder in his past seven games over three years are unbelievable. It's so easy to forget how good he is in the shorter formats.
Apart from one failure against the Sixers, he has smashed two centuries, three half-centuries and a 44 off 26 last summer before a thumb injury ruled him out of the decider in Canberra.
Cummins' efforts with the red ball over the summer saw him surge to No. 2 in the Test rankings, but he is just as potent with the white rock when unleashed for just four overs.
Khawaja has a healthy respect for D'Arcy Short, the Hurricanes left-handed slugger, who finally earned a deserved recall to the T20 and ODI squad to travel to India.
«He's really humble and as a mate I'm glad to see him do so well. But hopefully he misses out tomorrow night,» Khawaja said.
The Thunder were relying on the Brisbane Heat to beat the Melbourne Stars on Friday night to keep their finals hopes alive.
Christian covers rugby league for The Sydney Morning Herald.